Is anyone else shocked that it is September all ready! Here are you your September release:
September 4th
Blurb:
"A riveting tour de force" -- Kirkus (Starred Review)
"Summers has pulled no punches when it comes to diving into the darker side of teen lives." —Bustle
"Sadie: a novel for readers of any age, and a character as indelible as a scar. Flat-out dazzling."--A.J. Finn, #1 New York Times bestselling author of The Woman in the Window
Read this gripping novel about the depth of a sister's love with an ending you won't be able to stop talking about.
A missing girl on a journey of revenge and a Serial—like podcast following the clues she's left behind.
Sadie hasn't had an easy life. Growing up on her own, she's been raising her sister Mattie in an isolated small town, trying her best to provide a normal life and keep their heads above water.
But when Mattie is found dead, Sadie's entire world crumbles. After a somewhat botched police investigation, Sadie is determined to bring her sister's killer to justice and hits the road following a few meager clues to find him.
When West McCray—a radio personality working on a segment about small, forgotten towns in America—overhears Sadie's story at a local gas station, he becomes obsessed with finding the missing girl. He starts his own podcast as he tracks Sadie's journey, trying to figure out what happened, hoping to find her before it's too late.
Courtney Summers has written the breakout book of her career. Sadie is propulsive and harrowing and will keep you riveted until the last page.
September 11th
Blurb:
Set in the Uglies future, a decade after Tally's revolution has changed everything. As she once said, "Freedom has a way of destroying things." Impostors is about dealing with the consequences of ending the Pretty Regime. The story starts in a city where things did not work out well. Bad people are in charge. But we also will travel to other cities where things aren't all bad. This new series is about all the expressions of human nature that popped up after more than ten years of social upheaval.
Tally is a character in the world. But she's not a point-of-view character (in the first book, anyway). She's more like a famous person in the background.
The new installment follows a girl named Frey, who's been raised from birth to pretend to be someone else. She's a body double. A bodyguard. An impostor! It's about the roles that our parents and society force upon us, and how we fight to create our own identities, to invent selves that really belongs to us.
Blurb:
Three girls with three deadly secrets. Only one can wear the crown.
The king is dying, his heir has just been murdered, and rebellion brews in the east. But the kingdom of Kolonya and the outer Reaches has one last option before it descends into leaderless chaos.
Or rather, three unexpected options.
Zofi has spent her entire life trekking through the outer Reaches with her band of Travelers. She would do anything to protect the band, her family. But no one can ever find out how far she's already gone.
Akeylah was raised in the Eastern Reach, surrounded by whispers of rebellion and abused by her father. Desperate to escape, she makes a decision that threatens the whole kingdom.
Ren grew up in Kolonya, serving as a lady's maid and scheming her way out of the servants' chambers. But one such plot could get her hung for treason if anyone ever discovers what she's done.
When the king summons the girls, they arrive expecting arrest or even execution. Instead they learn the truth: they are his illegitimate daughters, and one must become his new heir. But someone in Kolonya knows their secrets, and that someone will stop at nothing to keep the sisters from their destiny... to rule.
Magic, mystery, and blackmail abound in this sensational and striking fantasy debut.
September 18th
Blurb:
Emika Chen barely made it out of the Warcross Championships alive. Now that she knows the truth behind Hideo's new NeuroLink algorithm, she can no longer trust the one person she's always looked up to, who she once thought was on her side.
Determined to put a stop to Hideo's grim plans, Emika and the Phoenix Riders band together, only to find a new threat lurking on the neon-lit streets of Tokyo. Someone's put a bounty on Emika's head, and her sole chance for survival lies with Zero and the Blackcoats, his ruthless crew. But Emika soon learns that Zero isn't all that he seems--and his protection comes at a price.
Caught in a web of betrayal, with the future of free will at risk, just how far will Emika go to take down the man she loves?
Blurb:
Loyalty.
Respect.
Wit.
Aggression.
Heart.
Each makes up the Slater brothers and molds them into the men they are today ... but what did it take to get them where they are?
Pain.
Disregard.
Fear.
Anger.
Love.
Peeling back each layer to find the brothers' core means taking a look at their past to see how they got their future. From overcoming family feuds, breaking a warlord's hold on them to moving to a new country, and finding women who make their world spin.
The Slater brothers idolize their women, and what the Slater brothers idolize, the Slater brothers guard.
Blurb:
In this third installment in the #1 bestselling Stalking Jack the Ripper series, a luxurious ocean liner becomes a floating prison of scandal, madness, and horror when passengers are murdered one by one…with nowhere to run from the killer. .
Audrey Rose Wadsworth and her partner-in-crime-investigation, Thomas Cresswell, are en route to New York to help solve another blood-soaked mystery. Embarking on a week-long voyage across the Atlantic on the opulent RMS Etruria, they're delighted to discover a traveling troupe of circus performers, fortune tellers, and a certain charismatic young escape artist entertaining the first-class passengers nightly.
But then, privileged young women begin to go missing without explanation, and a series of brutal slayings shocks the entire ship. The strange and disturbing influence of the Moonlight Carnival pervades the decks as the murders grow ever more freakish, with nowhere to escape except the unforgiving sea. It's up to Audrey Rose and Thomas to piece together the gruesome investigation as even more passengers die before reaching their destination. But with clues to the next victim pointing to someone she loves, can Audrey Rose unravel the mystery before the killer's horrifying finale?
Blurb:
Dark forces are on the rise in this sweeping sequel to The Black Witch by critically acclaimed author Laurie Forest.
Elloren Gardner and her friends were only seeking to right a few wrongs when they rescued a Selkie and freed a military dragon. The last thing they expected was to be thrust into a realm-wide underground resistance against Gardnerian conquest.
While the Resistance struggles to fight back against the harsh rulings of the Mage Council, more and more Gardnerian soldiers descend upon the University…led by none other than Lukas Grey, now commander of the nearby military base. Though Elloren tries to keep him at arm's length, Lukas is determined to tie himself to her, still convinced that she is the heir to the power of the Black Witch, a legacy of magic that will decide the future of all Erthia. As his own magic calls out to her, seeking to awaken a dark force within, Elloren finds it more and more difficult to believe that she's truly powerless, as her uncle always claimed.
Caught between her growing feelings for the rebellious Yvan Guriel and the seductive power offered by Lukas, Elloren must find a way to stay true to what she knows is right and protect everyone she loves…even if that means protecting them from herself.
September 25th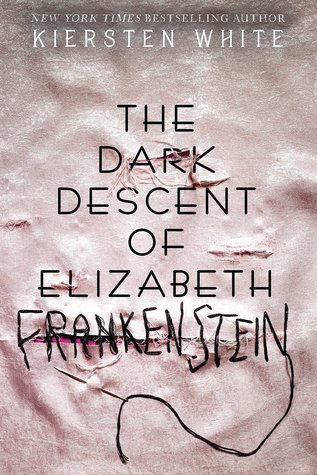 Blurb:
Elizabeth Lavenza hasn't had a proper meal in weeks. Her thin arms are covered with bruises from her "caregiver," and she is on the verge of being thrown into the streets . . . until she is brought to the home of Victor Frankenstein, an unsmiling, solitary boy who has everything--except a friend.
Victor is her escape from misery. Elizabeth does everything she can to make herself indispensable--and it works. She is taken in by the Frankenstein family and rewarded with a warm bed, delicious food, and dresses of the finest silk. Soon she and Victor are inseparable.
But her new life comes at a price. As the years pass, Elizabeth's survival depends on managing Victor's dangerous temper and entertaining his every whim, no matter how depraved. Behind her blue eyes and sweet smile lies the calculating heart of a girl determined to stay alive no matter the cost . . . as the world she knows is consumed by darkness.