May is the time of year when we see a lot of release so this post may be long.
May 1st
Blurb:
The Winter Solstice. In a week. I was still new enough to being High Lady that I had no idea what my formal role was to be. If we'd have a High Priestess do some odious ceremony, as lanthe had done the year before. A year. Gods, nearly a year since Rhys had called in his bargain, desperate to get me away from the poison of the Spring Court to save me from my despair. Had he been only a minute later, the Mother knew what would have happened. Where I'd now be. Snow swirled and eddied in the garden, catching in the brown fibers of the burlap covering the shrubs My mate who had worked so hard and so selflessly, all without hope that I would ever be with him We had both fought for that love, bled for it. Rhys had died for it.
Blurb:
The formerly glorious god Apollo, cast down to earth in punishment by Zeus, is now an awkward mortal teenager named Lester Papadopoulos. In order to regain his place on Mount Olympus, Lester must restore five Oracles that have gone dark. But he has to achieve this impossible task without having any godly powers and while being duty-bound to a confounding young daughter of Demeter named Meg.
Thanks a lot, Dad.
With the help of some demigod friends, Lester managed to survive his first two trials, one at Camp Half-Blood, and one in Indianapolis, where Meg received the Dark Prophecy. The words she uttered while seated on the Throne of Memory revealed that an evil triumvirate of Roman emperors plans to attack Camp Jupiter. While Leo flies ahead on Festus to warn the Roman camp, Lester and Meg must go through the Labyrinth to find the third emperor—and an Oracle who speaks in word puzzles—somewhere in the American Southwest. There is one glimmer of hope in the gloom-filled prophecy:
The cloven guide alone the way does know
. They will have a satyr companion, and Meg knows just who to call upon. . . .
Blurb:
Greetings, initiate! Carter Kane, here. Congratulations on reaching Brooklyn House in one piece. This accomplishment signals that you're descended from Ancient Egyptian royalty, and you have magic powers. But what good is power without knowing how to use it? That's where this training manual comes in. Packed with quizzes, stories, and insights about Ancient Egyptian deities, creatures (the friendly and the deadly), the mysterious Duat, and more, this primer will prime those with the blood of the pharaohs to take their first steps down the path of the gods. You'll hear from me, other magicians (including my sister, Sadie), and even a few of the gods themselves. But beware of tricks and surprises: anything can happen in the world of Egyptian magic.
Blurb:
In the final book in the New York Times bestselling
Ruined
series, the romance of The Selection and the epic stakes of
Red Queen
come together in a story of revenge, adventure, and unexpected love.
Emelina Flores and her sister, Olivia, were determined to bring peace to the people of Ruina. But as the war for liberation raged on, what triumph and freedom meant to Em and Olivia slowly changed. As Olivia's violence and thirst for vengeance became her only ambition, Em was left to pick up the pieces.
But it's not only Em who is upset by Olivia's increased violence. Other members of the Ruined army are beginning to see the cracks, and soon a small group of them defects from Olivia's army and joins Em instead. The two sisters are soon pitted against each other in an epic battle for the kingdom and the future, and only one will win.
Blurb:
A princess, a traitor, a hunter and a thief. Four teenagers with the fate of the world in their hands. Four nations destined for conflict.
In Brigant, Princess Catherine prepares for a loveless political marriage arranged by her brutal and ambitious father. In Calidor, downtrodden servant March seeks revenge on the prince who betrayed his people. In Pitoria, feckless Edyon steals cheap baubles for cheaper thrills as he drifts from town to town. And in the barren northern territories, thirteen-year-old Tash is running for her life as she plays bait for the gruff demon hunter Gravell.
As alliances shift and shatter, and old certainties are overturned, our four heroes find their past lives transformed and their futures inextricably linked by the unpredictable tides of magic and war. Who will rise and who will fall? And who will claim the ultimate prize?
Blurb:
Meet Daisy Winters. She's an offbeat sixteen-year-old Floridian with mermaid-red hair; a part time job at a bootleg Walmart, and a perfect older sister who's nearly engaged to the Crown Prince of Scotland. Daisy has no desire to live in the spotlight, but relentless tabloid attention forces her join Ellie at the relative seclusion of the castle across the pond.
While the dashing young Miles has been appointed to teach Daisy the ropes of being regal, the prince's roguish younger brother kicks up scandal wherever he goes, and tries his best to take Daisy along for the ride. The crown--and the intriguing Miles--might be trying to make Daisy into a lady . . . but Daisy may just rewrite the royal rulebook to suit herself.
New York Times
bestselling author Rachel Hawkins brings her signature humor, love of Americana, and flair for romance to this page-turning Princess Diaries turned-upside-down story.
May 3rd
Blurb:
Enter an immersive world where the chosen few have the ability to summon demons...
Arcturus is just an orphaned stable boy when he discovers he has the ability to summon demons from another world. He is sent to Vocans Academy where the lost arts of summoning, spell craft and demonology are taught to the noble children of the Empire. As the first commoner gifted with this ability, his discovery challenges the nobility and the powers that be and Arcturus soon makes enemies. With no one but his demon Sacharissa by his side, Arcturus must prove himself as a worthy Summoner...
Set before the events of SUMMONER: The Novice this is the perfect introduction to the New York Times bestselling SUMMONER series.
May 8th
Blurb:
From the author of the
New York Times
bestselling
Love & Gelato
comes a heartwarming tale of a road trip through Ireland filled with love, adventure, and the true meaning behind the word family.
Addie is visiting Ireland for her aunt's over-the-top destination wedding, and hoping she can stop thinking about the one horrible thing she did that left her miserable and heartbroken—and threatens her future. But her brother, Ian, isn't about to let her forget, and his constant needling leads to arguments and even a fistfight between the two once inseparable siblings. Miserable, Addie can't wait to visit her friend in Italy and leave her brother—and her problems—behind.
So when Addie discovers an unusual guidebook,
Ireland for the Heartbroken,
hidden in the dusty shelves of the hotel library, she's able to finally escape her anxious mind and Ian's criticism.
And then their travel plans change. Suddenly Addie finds herself on a whirlwind tour of the Emerald Isle, trapped in the world's smallest vehicle with Ian and his admittedly cute, Irish-accented friend Rowan. As the trio journeys over breathtaking green hills, past countless castles, and through a number of fairy-tale forests, Addie hopes her guidebook will heal not only her broken heart, but also her shattered relationship with her brother.
That is if they don't get completely lost along the way.
May 14th
Blurb:
The crime boss and the hustling queen are back for one last goodbye …
Cross and Catherine watch as their kids grow up, and everything changes again. Life is still as busy as it ever was for these two, and their family.
Cece and Nazio are trying to figure this life thing out. From toddling babies to wedding bells, everything they've ever wanted is already at their fingertips.
Go behind the scenes and beyond the final chapter of the Cross + Catherine series in The Companion to find never-before-seen POVs, deleted scenes, future outtakes, and short stories—all requested by readers.
Each snapshot is written in short-story form, and meant to be enjoyed as individual pieces by the readers of the Cross + Catherine series. It is not standalone, and is not intended to be read as one.
May 15th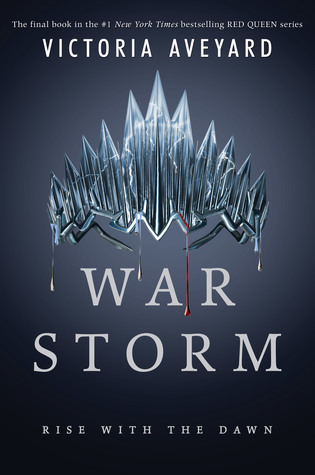 Blurb:
VICTORY COMES AT A PRICE.
Mare Barrow learned this all too well when Cal's betrayal nearly destroyed her. Now determined to protect her heart—and secure freedom for Reds and newbloods like her—Mare resolves to overthrow the kingdom of Norta once and for all… starting with the crown on Maven's head.
But no battle is won alone, and before the Reds may rise as one, Mare must side with the boy who broke her heart in order to defeat the boy who almost broke her. Cal's powerful Silver allies, alongside Mare and the Scarlet Guard, prove a formidable force. But Maven is driven by an obsession so deep, he will stop at nothing to have Mare as his own again, even if it means demolishing everything—and everyone—in his path.
War is coming, and all Mare has fought for hangs in the balance. Will victory be enough to topple the Silver kingdoms? Or will the little lightning girl be forever silenced?
In the epic conclusion to Victoria Aveyard's stunning series, Mare must embrace her fate and summon all her power… for all will be tested, but not all will survive.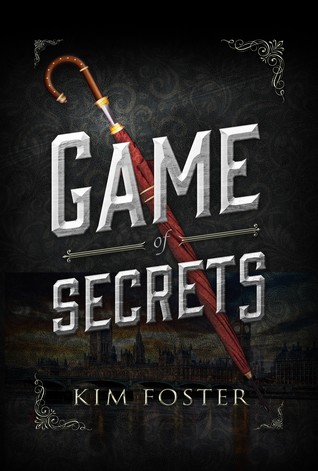 Blurb:
Felicity Cole sells flowers in the streets of Victorian London to feed herself and her young brother. But she has a close-guarded secret--her brother is a Tainted, born with special abilities that society fears and a shadowy organization called the Hunstsman scours the country to eliminate. When Felicity becomes the target of one of these individuals, she discovers something horrible: she's Tainted, too.

Rescued by a mysterious gentleman on the eve of execution, she's whisked away to a school funded by Queen Victoria, established to train selected Tainted into assassins in service of the crown.

Struggling to harness her incredible strength, speed, and agility, and despised by her classmates, all she wants is to use her new position to find a cure so she can be normal and reunited with her brother.

But with the Golden Jubilee fast approaching and the discovery that there's a traitor in their midst, she has no choice but to embrace the one thing she's been fighting all along.
May 21st
Blurb:
It's ten years later, and we're still living separate lives. While I know she isn't comfortable with my lifestyle after everything she's been through, I can't be without her anymore.

I need her.

She's my wife.
She's my heartbeat.
She's my every breath.
She's my everything.

I want to know every detail of her life. I want to be part of it all. I want to work as hard to get there as she did to get here.

She's always been my girl—even at the age of eight. As I face her now, there's no doubt she'll be mine until I draw my last breath.

It's time for our forever to begin.
May 22nd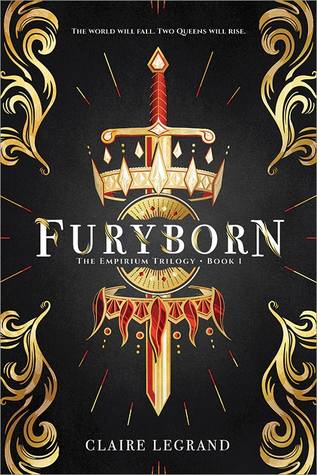 Blur:
Follows two fiercely independent young women, centuries apart, who hold the power to save their world...or doom it.
When assassins ambush her best friend, the crown prince, Rielle Dardenne risks everything to save him, exposing her ability to perform all seven kinds of elemental magic. The only people who should possess this extraordinary power are a pair of prophesied queens: a queen of light and salvation and a queen of blood and destruction. To prove she is the Sun Queen, Rielle must endure seven trials to test her magic. If she fails, she will be executed...unless the trials kill her first.
A thousand years later, the legend of Queen Rielle is a mere fairy tale to bounty hunter Eliana Ferracora. When the Undying Empire conquered her kingdom, she embraced violence to keep her family alive. Now, she believes herself untouchable--until her mother vanishes without a trace, along with countless other women in their city. To find her, Eliana joins a rebel captain on a dangerous mission and discovers that the evil at the heart of the empire is more terrible than she ever imagined.
As Rielle and Eliana fight in a cosmic war that spans millennia, their stories intersect, and the shocking connections between them ultimately determine the fate of their world--and of each other.
May 28th
Blurb:
From USA TODAY Bestselling Author, C. L. Stone, read Love's Cruel Redemption, the much-anticipated twelfth book in The Academy Ghost Bird Series.
Sang's life was on pause after the dramatic break with her real family. Now she's back in the game, returning to Ashley Waters to appear like a normal student. However, returning to school hasn't made her life any easier. When it comes to the Academy and her role in the secret organization, there's no such thing as normal.
When Kota's mother catches Sang and the guys in the complex web of lies they've woven, everything starts to unravel: Their relationships, their ties to the Academy. Everything's under risk of exposure.
Nathan struggles most with his conscience and lying to Erica Lee, the woman who supported him when his own mother was never there, doesn't seem like the right thing to do. She's his family and Nathan knows you shouldn't lie to family. But he also knows the truth could hurt her: It could put Erica in danger. And it could force Kota to make a choice he should never have to: his mother and sister, or his team—his chosen family.
With Ashley Waters High School under attack and the principal now missing, the Academy needs to maintain its cover more than ever. It's a bad time for Erica to start discovering what the Academy is really all about.
But to protect the
m all, Nathan's willing to take the heat. He'll do it for Sang, as well as Kota, Victor, Silas, Gabriel, Luke, North, and the rest of the team. He may be their only chance at survival.
But Sang, who committed to be all in with her team, isn't about to let Nathan go down alone.
The Academy: Family First
May 29th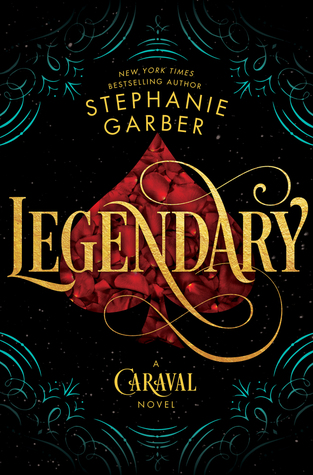 Blurb:
Stephanie Garber's limitless imagination takes flight once more in the colorful, mesmerizing, and immersive sequel to the bestselling breakout debut Caraval
A heart to protect. A debt to repay. A game to win.
After being swept up in the magical world of Caraval, Donatella Dragna has finally escaped her father and saved her sister Scarlett from a disastrous arranged marriage. The girls should be celebrating, but Tella isn't yet free. She made a desperate bargain with a mysterious criminal, and what Tella owes him no one has ever been able to deliver: Caraval Master Legend's true name.
The only chance of uncovering Legend's identity is to win Caraval, so Tella throws herself into the legendary competition once more—and into the path of the murderous heir to the throne, a doomed love story, and a web of secrets…including her sister's. Caraval has always demanded bravery, cunning, and sacrifice. But now the game is asking for more. If Tella can't fulfill her bargain and deliver Legend's name, she'll lose everything she cares about—maybe even her life. But if she wins, Legend and Caraval will be destroyed forever.
Welcome, welcome to Caraval...the games have only just begun.
Blurb:
Talking to other people isn't Kate Bailey's favorite activity. She'd much rather be out on the lake, soaking up the solitude and sunshine. So when her best friend, Alana, convinces Kate to join their high school's podcast, Kate is not expecting to be chosen as the host. Now she'll have to answer calls and give advice on the air? Impossible.
But to Kate's surprise, she turns out to be pretty good at the hosting gig. Then the podcast gets in a call from an anonymous guy, asking for advice about his unnamed crush. Kate is pretty sure that the caller is gorgeous Diego Martinez, and even surer that the girl in question is Alana. Kate is excited for her friend . . . until Kate herself starts to develop feelings for Diego. Suddenly, Kate finds that while doling out wisdom to others may be easy, asking for help is tougher than it looks, and following your own advice is even harder.
Kasie West's adorable story of secrets, love, and friendship is sure to win over hearts everywhere.
Blurb:
The first time Elliott Youngblood spots Catherine Calhoun, he's just a boy with a camera, and he's never seen a sadder and more beautiful sight. Both Elliott and Catherine feel like outcasts, yet they find an easy friendship with each other. But when Catherine needs him most, Elliott is forced to leave town.
Elliott finally returns, but he and Catherine are now different people. He's a star high school athlete, and she spends all her free time working at her mother's mysterious bed-and-breakfast. Catherine hasn't forgiven Elliott for abandoning her, but he's determined to win back her friendship…and her heart.
Just when Catherine is ready to fully trust Elliott, he becomes the prime suspect in a local tragedy. Despite the town's growing suspicions, Catherine clings to her love for Elliott. But a devastating secret that Catherine has buried could destroy whatever chance of happiness they have left.